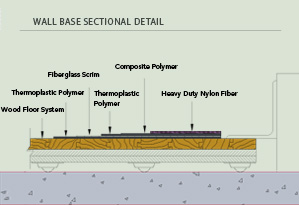 Wear Layer:
2mm multiple fiber protection
Base Layer:
4mm PVC compositions with fiberglass reinforcing
Dimensions:
1.0m x 2.0m - 21.5 square feet total
Load Management:
Excellent

Features and Benefits

Comfort - Heavy-duty fiber, dyed in the mass, highly resistant to U.V. and detergents
Strength - High stability, high fiber density, 100% polyester
Adherence - Rolled heavy PVC backing. The composition and high density ensures that the tile adheres perfectly to all surfaces.